Cards are issued by First National Bank of Omaha (FNBO®)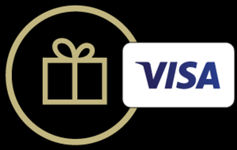 Maximum Rewards® Visa® Card
Simply earn unlimited rewards on purchases
No Annual Fee1
EARN BIG REWARDS with UNLIMITED 1.5% BACK2 on purchases simply, everywhere you shop. Redeem for cash back, gift cards, travel or merchandise.2
Plus, you have 5 years from when rewards are awarded to use them before they expire.2
0% Introductory APR1 for the first 12 billing cycles after the account is opened on purchases and balance transfers.
After that, a variable 20.49% APR1 based on the Prime Rate.
An introductory balance transfer fee1 of 3% for the first 12 billing cycles applies to this offer (minimum $10). After that, a balance transfer fee of 5% applies to each balance transfer that you make (minimum $10).
Just look for the contactless symbol, tap your card on the terminal and go on your way. It's secure, simple and touch-free.
We continuously and proactively scan your transactions, flagging anything that seems out of place. If suspicious activity should arise, we'll contact you to resolve the situation.
View your FICO® Score each month online for free. Knowing your FICO® Score can help you maintain and better understand your financial health.
Enjoy an easy and secure way to check your balance and monitor spending, set up Account Alerts and Autopay. 
Manage your account from your mobile phone - wherever you are. It's secure, simple and at your fingertips.
Automatically protects you 24/7 against unauthorized purchases made with your card or account information.
Provides 24-hour access to roadside assistance like tire changing, jump starting or towing. The fees for this pay-per-use service are pre-negotiated and available exclusively to Visa cardmembers. 
Provides expert assistance, whenever and wherever, for a replacement card or emergency cash.
Important Information
Q: If I request a balance transfer, will you process the entire amount that I requested? A: We will do our best to accommodate your request. If you are approved, we may permit you to transfer balances from other eligible credit cards or accounts up to the amount of your credit limit we make available for balance transfers (which may be less than your total assigned credit limit). If the total amount(s) requested to be transferred exceed(s) the portion of your assigned credit limit for balance transfers, we may process part of your request or decline your request in our sole discretion. You cannot request a balance transfer to make payments on a First National Bank of Omaha account or any credit card account issued by First National Bank of Omaha.
1For additional information about Annual Percentage Rates (APRs), fees and other costs, see the Summary of Credit Terms.
2See the Rewards Terms and Conditions in the Summary of Credit Terms for details, including earning, redemption, expiration or forfeiture. Your % back rewards are earned as points.
3Complete program details, including restrictions, limitations and exclusions, will be available when you become a Cardmember.
4Visa's Zero Liability policy does not apply to certain commercial card and anonymous prepaid card transactions or transactions not processed by Visa. Cardholders must use care in protecting their card and notify their issuing financial institution immediately of any unauthorized use.
FICO and "The score lenders use" are trademarks and/or registered trademarks of Fair Isaac Corporation in the United States and other countries. Please note, new cardmembers will generally see their FICO® Bankcard Score 9 (the version of FICO® Score we use to manage their account) within 45 days of account opening.

Cards are issued by First National Bank of Omaha (FNBO®), pursuant to a license from Visa U.S.A. Inc. Visa and Visa Signature are registered trademarks of Visa International Service Association and used under license.